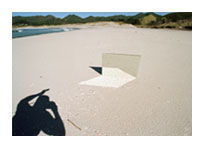 As a television executive he has Executive Produced many of New Zealand's most successful and innovative programmes and series. These included launching the first international broadcast of the New Zealand created 'Popstars' TV phenomenon. He commissioned 'Once Were Warriors', the highly praised New Zealand feature film and the feature films, 'Scarfies' and'Stickmen'. He received an Industry award in recognition of his work in Executive Producing and promoting the documentary in New Zealand television culture.
In April 2005 the prestigious NIKON Photo Salon in Ginza, Tokyo hosted a solo exhibition of 25 of Geoff's images. He has recently held successful exhibitions in Auckland NZ, Paris, and Sweden.
Geoff is the originator and director of OUR PLACE - The World's Heritage photographic project, recognised as "the world's first official World Heritage photographic databank" [UNESCO World Heritage Centre].
Geoff leads a team of international photographers who are photographing the planets most important and significant locations for publication in a number of different media. He is photographing a number of sites himself and some of his images can be seen on the OUR PLACE web site www.ourplaceworldheritage.com